text.skipToContent
text.skipToNavigation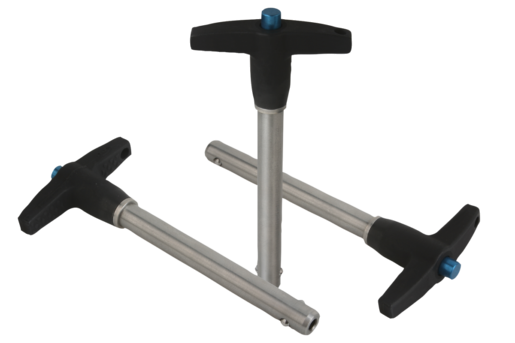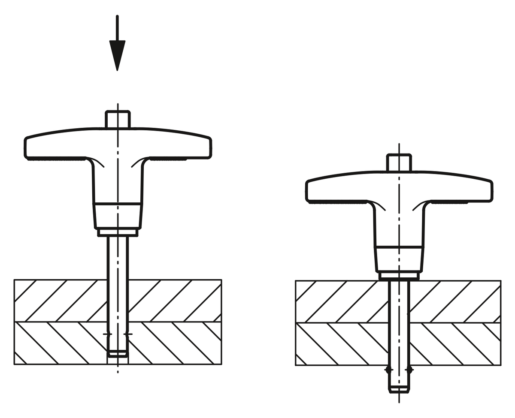 Description
Pin 1.4542 stainless steel.

Grip die-cast aluminium EN-AC 46000.

Push button aluminium EN-AW 2024 T4.

Balls 1.4125 stainless steel.

Spring stainless steel wire.
All stainless steel parts passivated.
Pin hardened to min. 40 HRC.
Grip black anodised.
Push button blue anodised.
Balls hardened to 58 +4 HRC.
Ball lock pins are used for easy fastening or joining of components or workpieces.
The two balls are disengaged by pressing the push button and the pin can be slipped into holes in the workpieces. Release the button to lock the balls and secure the connection. If required, the ball lock pins can be fitted with a retaining cable.

The hardened, high-tensile stainless steel pin permits extreme loads with low wear.

Shear force double shear (F) = S · τ aB max.

The values given for the shear force are the theoretical breaking load.
These are non-binding reference values without consideration of safety factors and exclude any liability. The values given are for information purposes only and do not constitute a legally binding assurance of properties.

The load values have been calculated in accordance with DIN 50141. Each user must determine individually whether the ball lock pin is suitable for the respective application.

Different materials in which the ball lock pins are used, weather conditions and wear can influence the determined values.
Safety spiral cable 03199-10200
Retaining cable with loop 03199-....
Key ring 03199-15/19/23/28
Bushing for ball lock pins 03197....
Important note on downloading CAD models
In order to download our CAD models, you must log in first. If you have not created an account yet, please register under "My Account" (right side of the screen) and follow the instructions.
Ball lock pins
With the ball lock pins from norelem, machine elements and workpieces can be connected and secured quickly and easily. A ball lock pin comprises an elongated pin (metal rod), a push button with spring tension and a locking element at the end of the pin. The locking element consists of two balls which provide the locking mechanism.
Function
By pressing the push button, both balls at the bottom end can be unlocked and the components to be connected can be secured in place. When the push button is released, the balls automatically lock in place and thus ensure a secure connection. Whether as an L-grip, T-grip or mushroom knob – norelem ball lock pins are available with various grip variants. In addition, norelem offers ball lock pins in a fully stainless-steel version, whereby all components (grip, push button, metal rod and balls) are made from stainless steel.